123 Days, Ancient Dynasties & World Wonders
on Crystal Serenity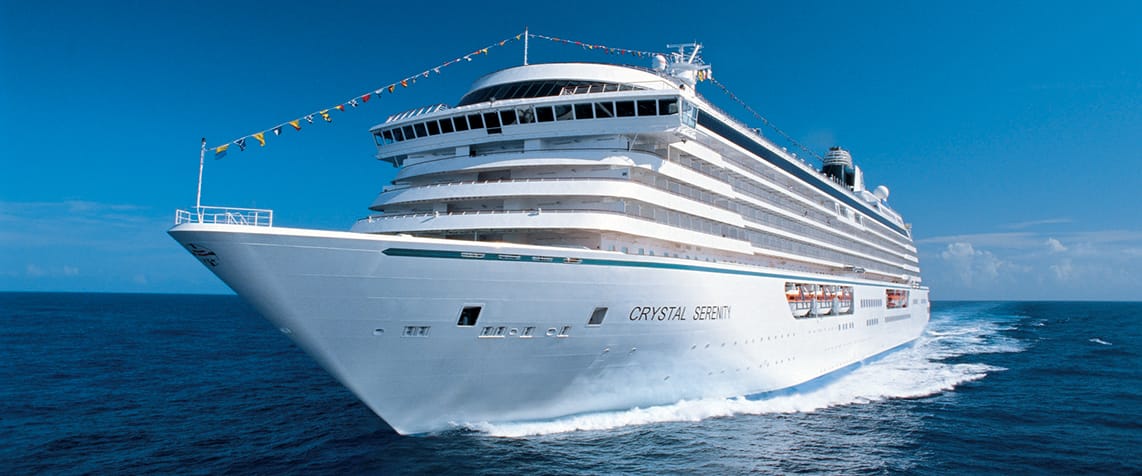 123 Days, Ancient Dynasties & World Wonders
Exotic. Wild. Ancient. Follow a mesmerizing route through Hawaii and the South Pacific, Australia, the Far East and beyond. Visit temples in Myanmar and India, relish a 2-night inclusive Beijing experience and unveil the marvels of Egypt and the UAE.

Since the beginning, Crystal has been the standard-bearer for excellence in luxury travel, remaining the undisputed choice among the savviest world travelers. Today, we are redefining it altogether, expanding the possibilities for our guests with choices, experiences and luxuries unmatched in the industry. By Ocean, River, Yacht, Expedition and Air, each Crystal Experience is designed to showcase the world and its wonders in the most remarkable ways. Join us as new adventures unfold...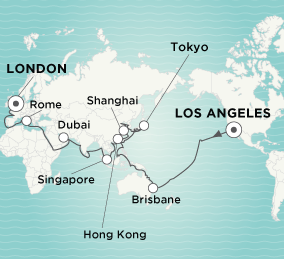 | Day | Destination | Arrive | Depart |
| --- | --- | --- | --- |
| Thu | Los Angeles/San Pedro, US | | 05:00 PM |
| Fri | Cruising the North Pacific | | |
| Sat | Cruising the North Pacific | | |
| Sun | Cruising the North Pacific | | |
| Mon | Cruising the North Pacific | | |
| Tue | Oahu/Honolulu, US | 05:00 PM | |
| Wed | Oahu/Honolulu, US | | 11:00 PM |
| Thu | Maui/Lahaina, US | 08:00 AM | 05:00 PM |
| Fri | Cruising The Pacific Ocean | | |
| Sat | Cruising The Pacific Ocean | | |
| Sun | Fanning Islands, KI | 08:00 AM | 06:00 PM |
| Mon | Cruising The Pacific Ocean | | |
| Tue | Cruising The Pacific Ocean | | |
| Wed | Cruising The Pacific Ocean | | |
| Fri | Crossing Dateline- Gain 1 day | | |
| Sat | Cruising The Pacific Ocean | | |
| Sun | Mystery Island, VU | 08:00 AM | 06:00 PM |
| Mon | Nouméa, NC | 08:00 AM | 05:00 PM |
| Tue | Cruising The Pacific Ocean | | |
| Wed | Brisbane, AU | 06:00 PM | |
| Thu | Brisbane, AU | | 06:00 PM |
| Fri | Cruising the Australian Coast | | |
| Sat | Arlie Beach, AU | 08:00 AM | 06:00 PM |
| Sun | Townsville, AU | 07:00 AM | 06:00 PM |
| Mon | Port Douglas, AU | 07:30 AM | 06:00 PM |
| Tue | Cruising theGreat Barrier Reef | | |
| Wed | Cruising The Arafura Sea | | |
| Thu | Banda Neira, ID | 09:00 AM | 06:00 PM |
| Fri | Ambon, Molucas, ID | 07:00 AM | 04:00 PM |
| Sat | Cruising the Celebes Sea | | |
| Sun | Cruising the Celebes Sea | | |
| Mon | Kota Kinabalu, Sabah, MY | 07:00 AM | 06:00 PM |
| Tue | Bandar Seri Begawan, BN | 07:00 AM | 05:00 PM |
| Wed | Cruising The South China Sea | | |
| Thu | Manila, PH | 07:00 AM | |
| Fri | Manila, PH | | 06:00 PM |
| Sat | Cruising The South China Sea | | |
| Sun | Hong Kong, HK | 08:00 AM | |
| Mon | Hong Kong, HK | | 09:00 PM |
| Tue | Cruising The South China Sea | | |
| Wed | Hualien, TW | 08:00 AM | 06:00 PM |
| Thu | Ishigaki Island, JP | 07:00 AM | 06:00 PM |
| Fri | Cruising The East China Sea | | |
| Sat | Hososhima, JP | 08:00 AM | 06:00 PM |
| Sun | Hiroshima, JP | 08:00 AM | 07:00 PM |
| Mon | Kochi, JP | 09:00 AM | 06:00 PM |
| Tue | Osaka, JP | 08:00 AM | |
| Wed | Osaka, JP | | 03:00 PM |
| Thu | Shimizu, JP | 08:00 AM | 07:00 PM |
| Fri | Tokyo, JP | 08:00 AM | |
| Sat | Tokyo, JP | | 07:00 PM |
| Sun | Cruising The Coast Of Japan | | |
| Mon | Kagoshima, JP | 08:00 AM | 07:00 PM |
| Tue | Nagasaki, JP | 08:00 AM | 06:00 PM |
| Wed | Cruising The East China Sea | | |
| Thu | Incheon, KR | 06:00 AM | 07:00 PM |
| Fri | Cruising The Yellow Sea | | |
| Sat | Beijing/Xingang, CN | 06:30 AM | |
| Sun | Beijing/Xingang, CN | | |
| Mon | Beijing/Xingang, CN | | 06:00 PM |
| Tue | Cruising The Yellow Sea | | |
| Wed | Shanghai, CN | 11:00 AM | |
| Thu | Shanghai, CN | | |
| Fri | Shanghai, CN | | 06:00 PM |
| Sat | Cruising The East China Sea | | |
| Sun | Naha, Okinawa, JP | 07:00 AM | 02:30 PM |
| Mon | Taipei/Keelung, TW | 08:00 AM | 06:00 PM |
| Tue | Cruising The South China Sea | | |
| Wed | Hanoi/Hongai, VN | 06:00 PM | |
| Thu | Hanoi/Hongai, VN | | 10:00 PM |
| Fri | Cruising The South China Sea | | |
| Sat | Cruising The South China Sea | | |
| Sun | Ho Chi Minh City (Saigon), VN | 08:30 AM | |
| Mon | Ho Chi Minh City (Saigon), VN | | 03:00 PM |
| Tue | Cruising The South China Sea | | |
| Wed | Singapore, SG | 08:00 AM | |
| Thu | Singapore, SG | | 09:00 PM |
| Fri | Cruising The Malacca Strait | | |
| Sat | Cruising The Bay Of Bengal | | |
| Sun | Yangon, MM | 04:00 PM | |
| Mon | Yangon, MM | | |
| Tue | Yangon, MM | | 02:30 PM |
| Wed | Cruising The Bay Of Bengal | | |
| Thu | Cruising The Bay Of Bengal | | |
| Fri | Chennai (Madras), IN | 07:00 AM | 06:00 PM |
| Sat | Cruising The Bay Of Bengal | | |
| Sun | Colombo, LK | 07:00 AM | 07:00 PM |
| Mon | Cruising The Arabian Sea | | |
| Tue | Cruising The Arabian Sea | | |
| Wed | Mumbai (Bombay), IN | 07:00 AM | 06:00 PM |
| Thu | Cruising The Arabian Sea | | |
| Fri | Cruising The Gulf Of Oman | | |
| Sat | Dubai, AE | 07:00 AM | |
| Sun | Dubai, AE | | 10:00 PM |
| Mon | Abu Dhabi, AE | 08:00 AM | 10:00 PM |
| Tue | Cruising The Gulf Of Oman | | |
| Wed | Muscat, OM | 07:00 AM | 06:00 PM |
| Thu | Cruising The Gulf Of Oman | | |
| Fri | Cruising The Gulf Of Aden | | |
| Sat | Cruising The Gulf Of Aden | | |
| Sun | Cruising The Red Sea | | |
| Mon | Cruising The Red Sea | | |
| Tue | Luxor & Karnak/Safaga, EG | 07:00 AM | |
| Wed | Luxor & Karnak/Safaga, EG | | 11:00 PM |
| Thu | Cruising the Gulf of Aqaba | | |
| Fri | Transit the Suez Canal, XZ | 01:00 AM | 06:00 PM |
| Sat | Cruising The Mediterranean Sea | | |
| Sun | Santorini (Thíra), GR | 07:00 AM | 08:00 PM |
| Mon | Cruising The Ionian Sea | | |
| Tue | Amalfi, IT | 07:30 AM | 06:00 PM |
| Wed | Rome/Civitavecchia, IT | 07:00 AM | 06:00 PM |
| Thu | Alghero, IT | 08:00 AM | 03:00 PM |
| Fri | Ibiza, ES | 09:00 AM | 10:00 PM |
| Sat | Cruising The Mediterranean Sea | | |
| Sun | Tangier, MA | 07:00 AM | 03:00 PM |
| Mon | Lisbon (Lisboa), PT | 08:00 AM | |
| Tue | Lisbon (Lisboa), PT | | 05:00 PM |
| Wed | Cruising The Bay Of Biscay | | |
| Thu | Bordeaux, FR | 03:00 PM | |
| Fri | Bordeaux, FR | | |
| Sat | Bordeaux, FR | | 04:00 PM |
| Sun | Cruising The English Channel | | |
| Mon | London/Dover, GB | 06:00 AM | |